See on Scoop.it – Fashion Technology Designers & Startups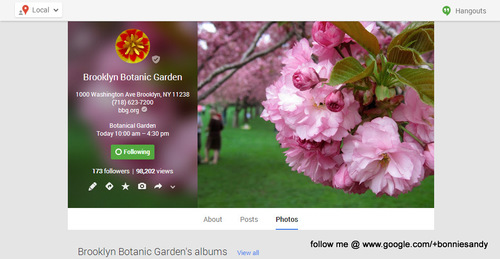 A complete guide to cherry blossom season at Brooklyn Botanic Garden. Check the CherryWatch blossom status map and learn about flowering cherry trees at BBG.
Bonnie Sandy's insight:
Cherry Blossoms @bklynbotanic Inspires #bkstyle with complete tech savvy guide -so why No GPlus?
Their cherry blossom page has virtual Tour | CherryWatch Blossom Status Map | Time laspe video and visitors photos- twitter, instagram, Facebook, Flickr, Pinterest.. but somehow not a cohesive social experience.

Lately I've taken to rethinking the content I come across on Social media and how I repurpose all that content. Last Spring I began a #bkstyle fashion design project with the cherry blossoms as teh inspiration and as the flowers begin to bloom this year, I am looking at extending this project via social channels! However quality of images and ease of use is important.
Which is why I like Gplus with hangouts In my opinion GPlus photos just appear the best of all the social networks – I can just imagine teh cherry blossoms at teh BBG in real time video or those really cool gifs… but as it is their Gplus page has very little. Though the few photos posted are EXCEPTIONAL! So I'm so hoping that their GPlus ppage improves.
The lack though may be an indication that most businesses have not quite figured out how to integrate GPlus. But I have to admit – It's my new addiction – hours spent browsing Nature shots from across the world in various communities- Vivid- full screen and with really thoughtful descriptions.
I went browsing and i have to admit the images on Gplus were the best- https://plus.google.com/102159038646663458672/photos 
See on www.bbg.org