See on Scoop.it – Just Trending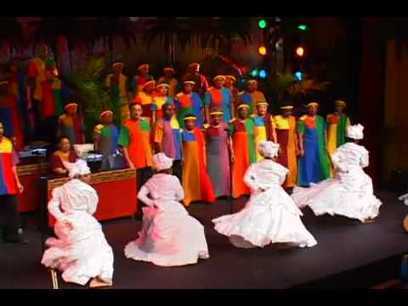 In honour of Lead Tassa Drummer Krishna Soogrim-Ram. May he rest in peace. "Hallelujah Chorus" – The Lydians production of Handel's Messiah Handel's Messiah …
Bonnie Sandy's insight:
Handel's classical Hallelujah Chorus expertly blended with steel Pan, Afrikan and Tassa drums as well as a full choir accompanied by both African & Indian Dance forms! An Experience that is 100% TRINI! #happyeaster2014
You tube description-
"Hallelujah Chorus" – The Lydians production of Handel's Messiah
Handel's Messiah (2009)
Queen's Hall Auditorium, St. Anns,
Port of Spain, Trinidad and Tobago (Caribbean)
The Lydians and Lydians Steel
Musical Director: Dr. Patricia Bishop
Accompanists: Lindy-Ann Bodden-Ritch and Myrtle Cumberbatch
Malick African and Tassa Drummers
(Dancers in white) Malick Folk Performers
(Indian Classical Dancer) Mondira Balkaransingh
In honour of Lead Tassa Drummer Krishna Soogrim-Ram. May he rest in peace.
Musical Director Dr. Pat Bishop, TC, H.B.M., BA Hons. (Fine Art), MA (history), Hon. D. Litt. (1940 to 2011) was a music historian, artist and cultural icon on the islands of Trinidad and Tobago. She was a business executive, painter, musician, historian, media commentator, choreographer and fashion designer, and was also a renowned ethnomusicologist. She worked with all of the top steel orchestras in Trinidad and Tobago — the birthplace of the only instrument to be invented in the 21st century — the steelpan. She lectured History at the University of the West Indies, St. Augustine (Trinidad) and Mona (Jamaica) campuses as well as the history of art and design at the Jamaican School of the Art between 1970 and 1972.
Dr. Bishop was awarded the highest national award at the time– the Trinity Cross and also directed the Lydian Singers for over 20 years. In her musical journey with the Lydians, which comprised some of the most powerful classical voices the country has ever accumulated in one choir, Dr. Bishop continuously experimented combining Caribbean music and rhythms with classical music. One of the most successful of these combinations was the incorporation of the steelpan orchestra, African and Tassa drums into Handel's "Hallelujah Chorus". The results were glorious! This "Caribbean version" of Handel's Messiah expresses all of the bright and fiery elation of a passionate heralding of heavenly glory, and the rendition has become a trademark and a staple of every Lydians performance ever since, becoming a signature sound of the choir and earning the love of listeners from all over the world.
This up tempo performance of the classical piece of choral music was incorporated into the Lydians' performance of the entire Handel's Messiah — a feat successfully completed in 2009, from which this video excerpt is taken. A full length DVD can be purchased from the offices of local TV station Gayelle TV or from the Lydians (www.thelydianstt.com). To date no other choir, or country, anywhere in the world has this version of the "Hallelujah Chorus" from Handel's Messiah. This rendition continues today in most Lydians' performances and concerts – a testimony to Dr. Bishop's great legacy and musical vision.
See on www.youtube.com