See on Scoop.it – Black Fashion Designers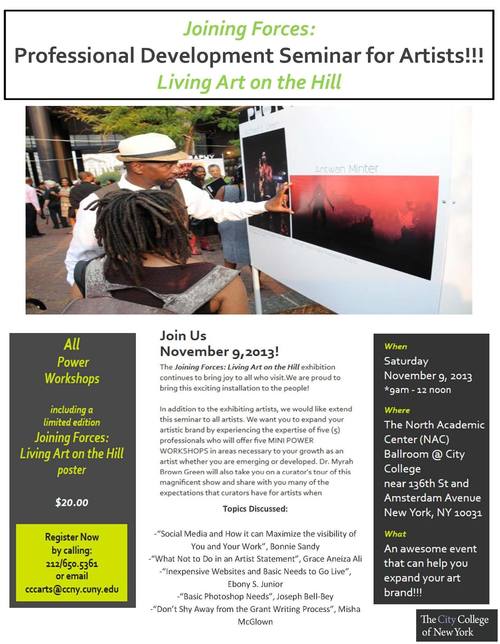 The Joining Forces: Living Art on the Hill exhibition continues to bring joy to all who visit.We are proud to bring this exciting installation to the people!
In addition to the exhibiting artists, we would like extend this seminar to all artists. We want you to expand your artistic brand by experiencing the expertise of five (5) professionals who will offer five MINI POWER WORKSHOPS in areas necessary to your growth as an artist whether you are emerging or developed. Dr. Myrah Brown Green will also take you on a curator's tour of this magnificent show and share with you many of the expectations that curators have for artists when answering a call for entry into an art exhibition.
Our speakers include:Bonnie Sandy, TibiaeTech"Social Media and How it can Maximize the Visibility of You and Your Work".
Grace Anieza Ali, Of Note Magazine"What Not to Do in an Artist Statement".
Ebony S. Junior, I Am Ebony S. Junior.com" Inexpensive Websites and Basic Needs to Go Live".
Joseph Bell-Bey, Dorsey's Gallery"Basic Photoshop Needs".
Misha McGlown,Omo Misha- "a creative institution""Don't Shy Away from the Grant Writing ProcessT
Bonnie Sandy's insight:
On November 9th at 9Am, I speak to artist in this professional development series about How social media can not only maximize visibility but it's value as a tool in the communication of anytype!
All Power Workshops $20.00
Register Now by calling: 212/650.5361
or email cccarts@ccny.cuny.edu
When;- Saturday November 9, 2013 *9am – 12 noon
Where- The North Academic Center (NAC) Ballroom @ City College near 136th St and Amsterdam Avenue
New York, NY 10031
What- An awesome event that can help you expand your art brand!!!