See on Scoop.it – Just Trending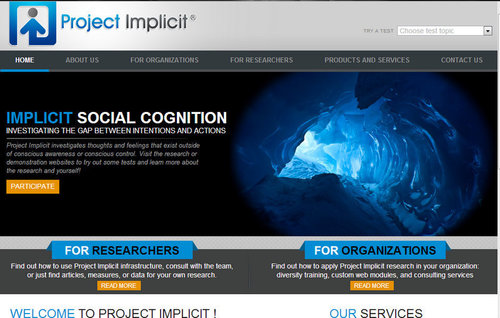 "IMPLICIT SOCIAL COGNITIONINVESTIGATING THE GAP BETWEEN INTENTIONS AND ACTIONS
Project Implicit investigates thoughts and feelings that exist outside of conscious awareness or conscious control. Visit the research or demonstration websites to try out some tests and learn more about the research and yourself!"
Bonnie Sandy's insight:
Diversity can refer to sex, class, socio-economics, education, age, profession, niche, religion, philosophy, psyche.. it is engaging with those who are different from you. .. It is not simply race or ethnicity.
I dare you to find out your implicit associations about race, gender, sexual orientation, and other topics using Project Implicit
My recent letter to NYTM.org got a lot of response. someone sent me a TedTalk video that mentioned this site.(Project Implicit) and another tweeted me a definition for "Homophilly" http://didyouknow.doubleblindlabs.com/homophily-2/
Homophily, meaning "love of the same" describes the human predisposition to associate with people who share communities—economic, cultural, religious, etc.

Project Implicit investigates thoughts and feelings that exist outside of conscious awareness or conscious control. in short it is behavioral research and was started by three Tony Greenwald (University of Washington), Mahzarin Banaji (Harvard University), and Brian Nosek (University of Virginia),

Most assumed I meant race, but "techies" think differently from "Normal" BTW those are Not my terms. As the sisters of a hacker and the daughters of a Programmer. my sister and I often laugh that "we speak" tech. We often have to be mindful of that diversity and act as interpreters between the two diverse groups
As a black female I often find most challenges I experience come from other Blacks. Black men who are uncomfortable with black females as equals or black american who resent my Caribbean Heritage. Even my family is diverse in belief, religious viewpoints ethnicity, economic backgrounds, culture and heritage.

THE GAP BETWEEN INTENTIONS AND ACTIONS- I've been fascinated by this topic for a while, Curious as to how this affects our goals and what we actually achieve. as well as how people shop. One to make time for.

See on implicit.harvard.edu