See on Scoop.it – Fashion Technology Designers & Startups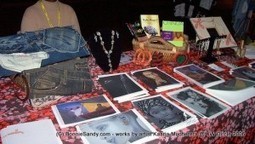 Maybe I'm a closet nomad but I like my art in an "African" sensibility,delivered in a utilitarian mode in my carpets, fabrics, utensils, furniture architecture tools. I am also an artist, I'm dying to get my hand into some pastels, or paint.
Bonnie Sandy's insight:
Many approaches are top heavy focusing on the technology, with little attention paid to best use practices or integration and adaptation… in short… holes are not plugged and creatives, fashion designers and artist are bleeding despite successes of large disruptive creative tech companies. .
In restructuring my web site I needed to pull various key component together and as such I looked at my perceptions on Fashion, art, media and entertainmant.
this is the third in the series … http://www.bonniesandy.com/category/fame/ 
up next FASHION
See on www.bonniesandy.com